Total Joint Surgery in Richardson, TX
Eminent Medical Center is your trusted state-of-the-art healthcare center in Richardson, Texas. We offer a variety of surgical procedures to patients who suffer daily pain and reduced quality of life, including total joint surgery. Below, we break down everything you need to know about total joint surgery, including common types of joint replacements, candidacy criteria, the surgical process, recovery expectations, and the benefits and risks associated with this procedure. At Eminent Medical Center, we prioritize patient care and safety, and we are here to guide you through every step of your total joint surgery journey.
Call 469-910-8800 to schedule an appointment at Eminent Medical Center today.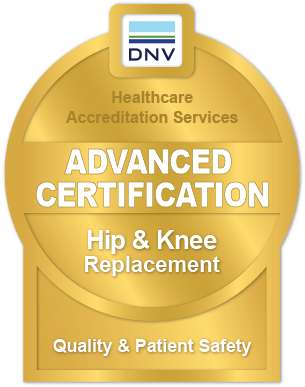 What is Total Joint Surgery?
Total joint surgery, also known as joint replacement surgery, is a medical procedure designed to alleviate pain, improve joint function, and enhance the overall quality of life for individuals suffering from severe joint conditions. It involves the removal of damaged or diseased joint components and replacing them with artificial prostheses made of plastic, ceramic, or metal. This procedure can significantly enhance mobility and reduce pain, enabling patients to regain their active lifestyles.
Common Types of Joint Replacement Surgeries
Total joint surgery can be performed on various joints in the body, but the most common types of joint replacements include hip, knee, and shoulder replacements.
Hip replacement surgery, also known as hip arthroplasty, involves the replacement of the damaged joint with a prosthetic implant. A total hip replacement procedure is often recommended for individuals suffering from hip osteoarthritis, rheumatoid arthritis, or hip fractures.
Knee replacement, also called knee arthroplasty, is a surgical procedure that replaces the damaged knee joint with an artificial knee implant. It is typically performed on patients with severe knee osteoarthritis, rheumatoid arthritis, or knee injuries. A total knee replacement surgery is often necessary for patients over the age of 50 to regain normal mobility.
Shoulder replacement surgery is reserved for patients with severe shoulder joint conditions, such as osteoarthritis or rotator cuff injuries. During this procedure, the damaged parts of the shoulder joint are replaced with artificial components.
Types of Joint Implant Devices
There are several types of joint implant devices used in total joint surgeries, each with its own unique characteristics and benefits. These include:
Metal-on-Polyethylene: This common implant combination consists of a metal component articulating against a polyethylene (plastic) component. It provides good durability and is often used in hip and knee replacements.
Ceramic-on-Polyethylene: This implant is made up of a ceramic component paired with a polyethylene component. It offers low friction and excellent wear resistance, making it a popular choice for hip and knee replacements.
Ceramic-on-Ceramic: Ceramic-on-ceramic implants utilize ceramic components for both articulating surfaces. This combination provides exceptional durability and minimal wear, making it suitable for patients with high activity levels.
Ceramic-on-Metal: This implant is made up of a ceramic component and a metal one. It offers the advantages of ceramic's low wear rates while maintaining the stability provided by metal.
It's important to note that metal-on-metal joint implants, once a popular option, are no longer used in total joint surgeries due to complications such as device failure and metallosis. Metal-on-metal implants have been associated with an increased risk of adverse reactions to metal ions released into the bloodstream, leading to tissue and bone damage. As a result, orthopedic surgeons have shifted towards safer implant materials and configurations to ensure the long-term success and well-being of patients undergoing total joint surgery.
Your primary care doctor and orthopaedic surgeon can offer a complete physical examination of the damaged joint and help you pick the best type of implant for your body and normal activity levels.
Who is a Good Candidate for Total Joint Surgery?
The decision to undergo total joint surgery is based on several factors, including the severity of joint pain, the impact on daily activities, and the effectiveness of conservative and nonsurgical treatments. If the following issues apply to your day-to-day life, your surgeon may recommend total joint replacement surgery.
It is crucial to consult with an orthopedic specialist at Eminent Medical Center to determine your candidacy for total joint surgery. Our experienced team of healthcare professionals will assess your condition and guide you through the decision-making process.
Eminent Medical Center strives for the highest quality healthcare and is measured by the satisfaction of our patients overall experience.
Douglas Russell
2023-08-31
I just had my second knee replacement surgery within 12 months (Dr. Berry is awesome!) and both were done at Eminent Center. The entire staff is friendly and caring from the time you walk in until the time you leave! Big kudos to the nursing staff. From surgery prep to the operating room to recovery they really have great attitudes. Thanks so much to my floor nurses. They are fantastic!!! Great experience overall!!!
I been here 4 times for my procedures. The best and friendliest staffs a patient can ever ask for!! Keep up the good work!! Thank you!
Ranthony Texada
2023-08-25
The team made sure they communicated with me very well. I knew everything I had to do every inch of detail, the facility was great, and the surgery went great. The instructions and follow up was outstanding.
EVERYONE was superb here- from the minute you walk in the door to the minute you leave! Attentive care for my recent surgery- made the process go smoothly
The staff was amazing during my surgery! Friendly, professional, and caring through my entire experience. As an RN myself it was refreshing to have such a great experience with quality staff! Thank you to all the nurses and staff that cared for me! I highly recommend using this facility!
The place Is clean with a very friendyatavvy
Eddie Williams
2023-07-24
The staff was great. My wait time was minimal. Very nice facility. I would recommend them to anyone needing day surgery such as I did. Thank you Eminent Medical.
Chris Caldwell
2023-07-23
Absolutely the best to ever do it! So, kind and the sense of urgency and willing to make you feel comfortable was amazing, good job to the team and my family and I are greatly appreciative!!!
Brenda Filipek
2023-07-22
My care was amazing. The food was descent and the doctors went above and beyond to make sure surgery was successful.
The whole experience wasn't stressful at all. The staff was amazing.. from checking in to prepping for the surgery they were friendly and helpful. Also, the building is very nice and they even have a little Bistro right there for those that are waiting. Thank you for making things so easy!
What to Expect Before, During, and After Your Total Joint Replacement
Understanding what to expect before, during, and after your total joint replacement surgery is essential to prepare mentally and physically for the procedure.
This is what to expect before your total joint replacement surgery:
This is what will happen during your total joint replacement surgery:
This is what to expect after shoulder, hip, or knee replacement surgery:
How Long Do Joint Replacements Last?
One of the common concerns patients have about joint replacement surgery is the longevity of the artificial joint. The durability of joint replacements can vary depending on factors such as the type of implant used, the patient's age, activity level, and overall health. However, modern prosthetic joints are designed to last for many years, often exceeding a decade or more. Regular follow-up appointments and adhering to your surgeon's recommendations can help extend the life of your joint replacement.
Benefits of Total Joint Surgery
Shoulder, knee, and hip replacements offer numerous benefits to patients, including:
Pain Relief: Joint replacement surgery effectively reduces or eliminates chronic joint pain, allowing patients to enjoy a better quality of life.
Improved Mobility: Most patients typically experience improved joint mobility and functionality, enabling them to perform daily activities with ease.
Enhanced Quality of Life: Joint replacement surgery can restore patients' independence and ability to participate in hobbies and activities they may have had to give up due to joint pain.
Long-Term Success: With advancements in medical technology and surgical techniques, joint replacements have a high success rate and can last for many years.
Reduced Medication Dependency: Many patients no longer need to rely on medications to relieve pain in their affected shoulder, knee, or hip joint.
Risks and Complications of Total Joint Surgery
While total joint surgery is generally safe and highly effective, it does carry certain risks and potential complications, including:
Infection: Infection is a serious complication that can occur at the surgical site. It may require additional treatment, including antibiotics or, in severe cases, surgical intervention.
Blood Clots: Surgery can increase the risk of blood clots in the legs (deep vein thrombosis) or lungs (pulmonary embolism). Blood thinning medication and compression stockings may be used to prevent the chance of blood clot happening during recovery.
Implant Wear and Tear: Over time, artificial joints may experience wear and tear, potentially necessitating a revision surgery to replace the worn components.
Nerve and Blood Vessel Damage: Although rare, damage to nearby nerves or blood vessels can occur during surgery, leading to temporary or permanent complications.
Anesthesia Risks: Anesthesia carries inherent risks, including allergic reactions and adverse effects on breathing and heart function.
Joint Stiffness or Instability: Some patients may experience joint stiffness or instability after surgery, which can impact their range of motion and functional outcomes.
It's important to discuss these risks with your surgeon and healthcare team at Eminent Medical center and carefully follow postoperative instructions to minimize the likelihood of complications.
Schedule an Appointment at Eminent Medical Center Today
If you or a loved one are considering total joint surgery in Richardson, TX, Eminent Medical Center is here to provide you with the highest level of care and expertise. Our dedicated team of orthopedic surgeons, nurses, and physical therapists is committed to ensuring that your total joint surgery experience is as smooth and successful as possible.
At Eminent Medical Center, we prioritize your well-being, comfort, and recovery. We believe in the power of personalized care and will work closely with you to create a tailored treatment plan that meets your unique needs and goals. Whether you require a hip replacement, knee replacement, or shoulder replacement, our state-of-the-art facilities and experienced medical professionals are here to support you at every step of your journey.
Don't let joint pain hold you back from living your best life. Take the first step towards a pain-free and more active future by contacting Eminent Medical Center today. Our team is ready to answer your questions, address your concerns, and schedule your consultation with our skilled orthopedic specialists. Contact us today at 469-910-8800 and let us help you reclaim your mobility and vitality through total joint surgery in Richardson, TX.